About T.A. King & Son Building Supplies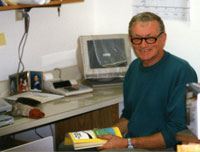 Thomas A. King, business founder
T.A. King & Son, Inc. is a building material company founded in 1975 by Thomas A. King and Katherine M. King. With one location in Jonesport, Thomas, Katherine, and their son Thomas (Tommy) created a diversified, strong, and healthy company to serve both building and marine needs of Jonesport residents, building contractors, and fishermen.
The original modest storefront soon became too small to house the growing inventory. To provide more retail space for lumber, nails, and millwork, a separate building was built and the Victorian-era house on the lot was used for additional storage. The Victorian home was eventually torn down in the 1980's and replaced by a massive pole barn with a dirt floor. After a large fire destroyed buildings in the center of Jonesport, the store was remodeled and two wings were added on to the original structure.
In 1997 a 6,000 square foot warehouse was added to the rear of the original building. In the year 2000, Thomas and Katherine retired from the business, turning the store over to their son, Tommy. Tommy expanded the store by building a new warehouse with modern racking systems and a cement floor to store building materials out of the weather. An adjoining parcel was recently acquired and is now used for outside storage and parking.